(Advertorial) Crizal loves me and i love it loads <3
My Love-Hate Relationship with Spectacles

Really regretted not taking care of my eyes since young.
' Shortsightedness' has been bugging me since Primary 3 till now.
Till date, i have been wearing spectacles for more than 15 years.
Frankly speaking, it is really a hassle and how i wish i have perfect eye-sight.
I should have listen to my Mama when i'm young.
:(
I love the fact that spectacle (spec) saves me from dry eyes, eye infection and complications from contact lenses. So i cannot do without it unless i do LASIK to correct my eye sight. Sad to say, i'm basically BLIND without my spec.
Now, let this
四眼
田鸡
tell you about the biggest problems that i face
Smudges &
Dust
This is how my spec will look like at the end of the day. With my long fringe that is always sweeping my lenses, smudges are inevitable. Due to static, there will be a lot of dust being attracted to my lenses. It can be really annoying as it will 'cloud' my vision.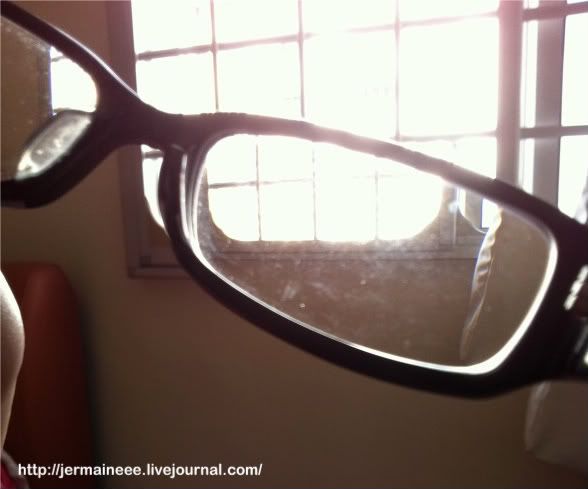 Water
Imagine when you are caught in the rain and you just run to the nearest shelter asap but your lenses (decorated with water droplets) is hindering this. How pathetic right? :(
Scratches
Due to smudges, water stain and Dust, i have to constantly 'Clean and Rub' my lenses. With the friction overtime, there is bound to be scratches on my lenses (See the amount of scratches on my old pair of spec)


Reflection
Imagine you are surfing face-book in office and your boss suddenly stands in front of your cubicle. He will know that you are 'slacking' as he can see the reflection on your lenses.


In the long run, these problems will affect vision as these perpetual discomforts will lead to eye fatigue, eye strain and eye problems.

Not only that inferior lenses don't look good (Due to the fact that it is easily dirtied and reflective), deteriorating vision and eye health is a big NO NO!
How i wish there's a LEN which will combat the 5 problems that i'm facing...
.
.
.
When informed that i was shortlisted as one of the Crizal Ambassador, i was thrilled as Crizal lens can

combat the five enemies of clear vision!



Essilor (The life-saver) understands consumers' needs and problems associated with normal lenses. Hence, Crizal lenses are developed to achieve clearer vision and excellent visual aesthetics.

Eye-checks are important as well so that the correct lenses are prescribed. You do not want to end up with wrong degree lenses which will lead to blurry sight and eye-strain.
Arrangement was made for me to visit
IEC
for my eye-check and lenses prescription.
IEC is very professional in providing customized + comprehensive eye-wear solutions for the young and old.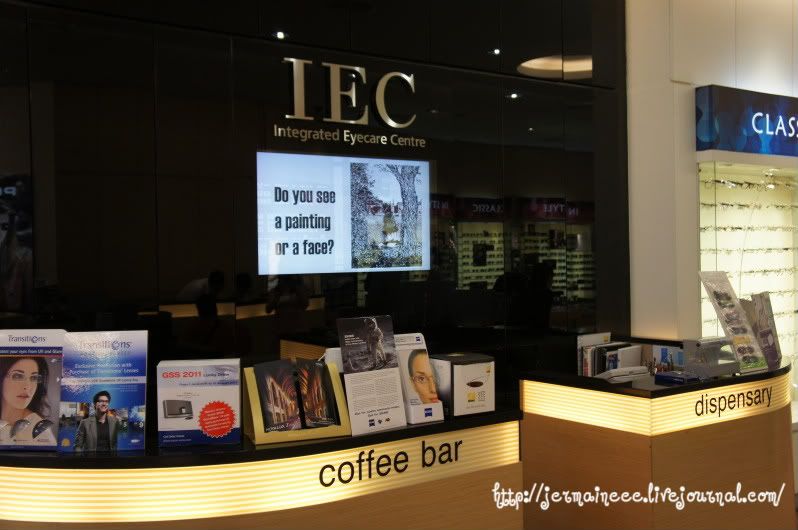 Cozy furnishing and layout and you'll feel at ease once you stepped in.
Wide selection of frames and sunglasses to suit all needs.

Before my eye-check, ii'm given a hands on experiment (putting the Crizal lenses to the test).



The power of static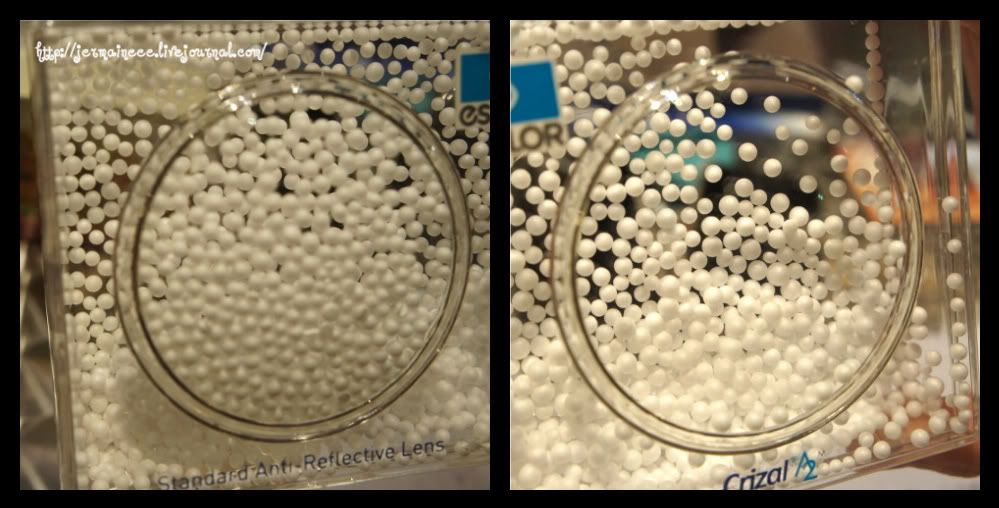 1) Left (Normal len) - attracting massive Styrofoam balls
2) Right (Crizal) - attracting very little
Styrofoam balls
The Art of Reflection
1) Left (Normal len) - You can see what i'm doing
2) Right (Crizal) - Nah! You CANNOT see me.. LALALA!
In addition, I have obtained these pictures from

Crizal's website

to explain more about the lenses



Anti Smudges
No thumbprint smudges due to in-built smudge-repellent feature

No oily smudges or dirty marks which hinder vision and prevent wearers to maintain proper eye contact

Repels Water
Water-repellent properties prevent water from staying and spreading across the lenses.

No need to worry about rainy day's blurred vision and vaporization.

Good for water sport to ensure clear vision
Anti-scratches
Surfaces are protected from scratches which affect vision quality and ensure clarity (which means lesser eye-strain)

Good for children who are active

Anti-reflection
1) Eliminates reflections and 'ghostly' images due to artificial lights.

2) Enhanced comfort and aesthetic outlook.

3) Enhanced visual performance for activities like night driving, sports and outdoor events (better view and judgment).

4) Zero eye discomfort due to glares and dizziness from prolonged stating at computer screens

Anti Dust



Prevent dust accumulation due to its anti-static properties

Even in a dusty environment, wearers will have a clear vision all day long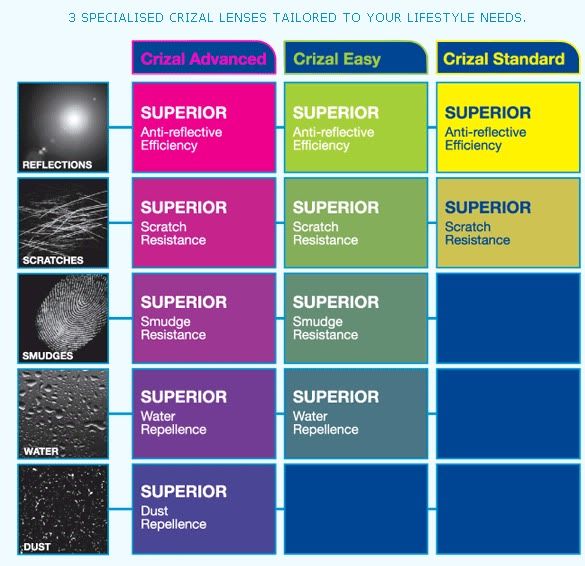 Crizal lenses come in a total of three different tiers for different needs and it complements all Essilor ophthalmic solutions (Myopia, hyperopia, astigmatism or prebyopia)
After the introductory session, time for my eye check.
Damn! My short-sightedness worsen which i think it is due to my part time studies..
Tsk! Books and good eye-sight doesn't go hand in hand..
Also did another eye test which helps to take a photo of the back of my eyes. I'm told that this test will help to detect some 'hidden' and 'silent' killer associated with eyes.
It can help to detect Glaucoma and in some cases diabetes
More on this entry: please click on this link to go to my new blog :)
http://jermaineee.com/2011/06/26/advertorial-crizal-loves-me-and-i-love-it-loads/