During the 2nd week of January, i was invited by Ashley to their first Bloggers' Launch on their newly released Mythic Oil, latest hair care & styling launches..
Event is held @ L'Oreal Academie located at Key Point (Beach Road)
Upon arrival, i was given a tour around the premises..
They have their own in-house hair and beauty salon for training purposes..
In addition, there's a few meeting rooms which courses and events can be conducted...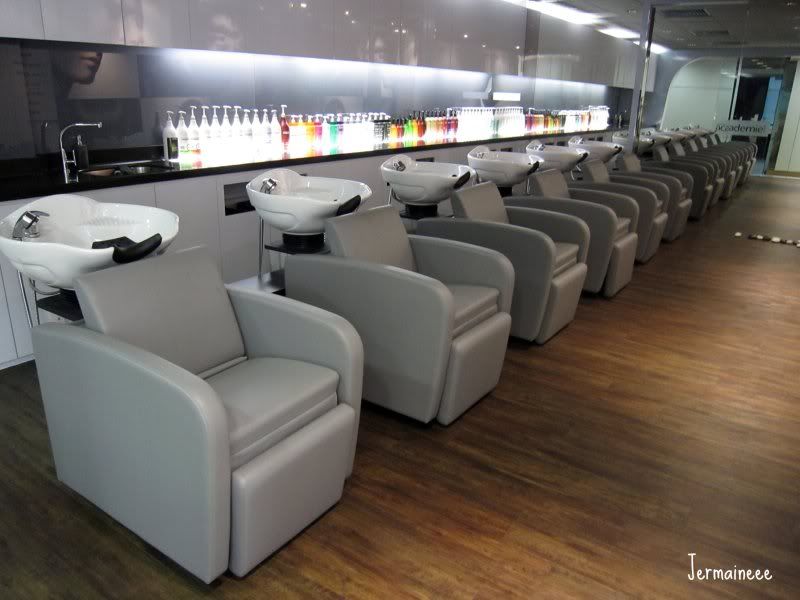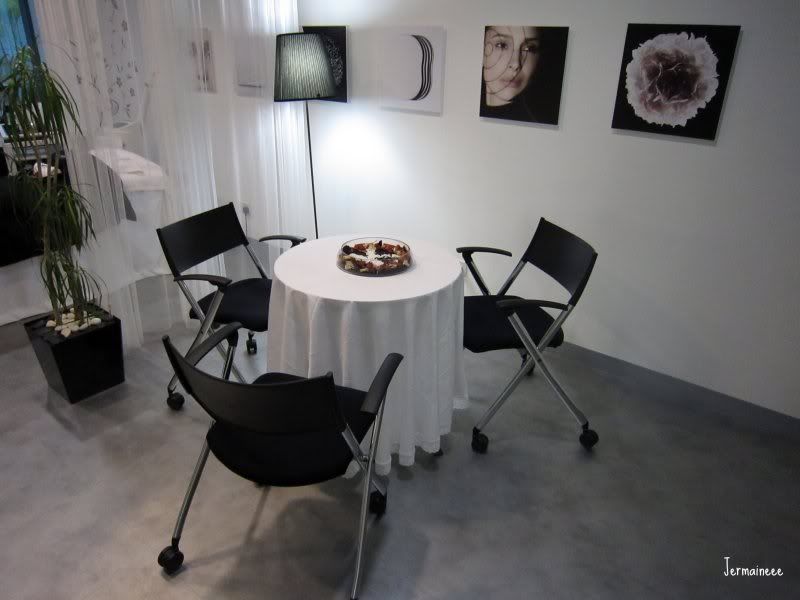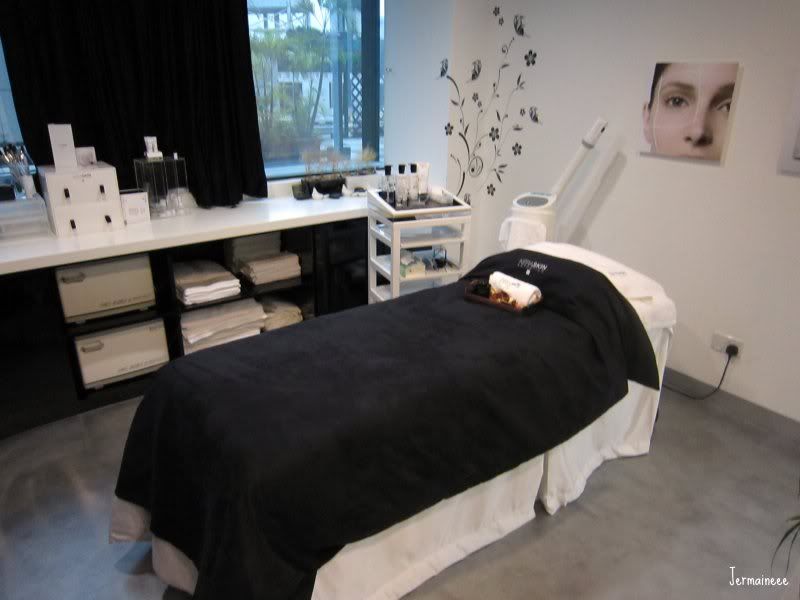 Under professionnel hair care products, L'Oreal Singapore carries a few major brands like L'Oreal Professionnel, Kérastase , Redken etc...
Just like the name has suggested, these professionnel hair care products / services can only be found in selected hair-salons. L'Oréal Professionnel has many collaboration with more than over 800
dynamic hair-salons in Singapore.
In addition, it focus on 'Creativity, innovation and partnership' as part of its successful business model, thus making it the world-wide leader in the hair services industry. L'Oréal Professionnel shares an important belief with hairdresser partners that everyone is "all different and each unique".
Working closely with leading hairdressers and focusing on latest trend, L'Oréal Professionnel stays abreast of latest fashion, techniques and expertise (with an in-depth understanding of all art and technique of hairdressing) in order to provide its partners with the latest products and services. In this way, every unique customers can benefit from the forefront of style and beauty.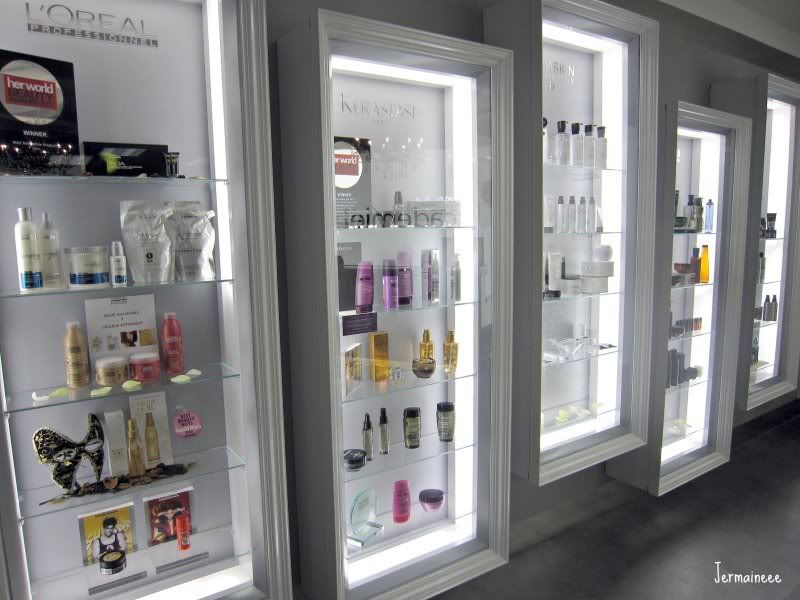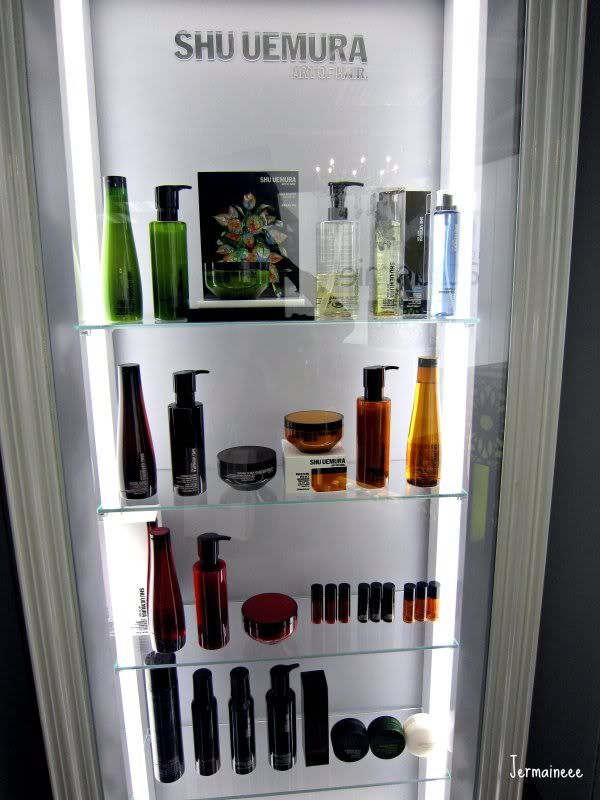 During the event, three series of products:
Mythic Oil, Super Style Heros and Serie nature
are being introduced.
Please bear with me as this post is gonna be a long one as beside products introduction, i will also include personal review for one product from each series which i deem suitable for my current hair condition...
Here i go.. :)
THE MYTHIC WORLD OF OILS
~ Like a Jewel, A precious object of desire

We have Ashley to bring us through the introduction of Mythic Oil (125ml @ $42)

Back in the past, the uses of plant oil are widely used for body / hair care as they are known for its scent, calming / moisturizing and medicinal properties etc.

Acting as powerful and protective agents, Natural oils are greatly beneficial to our hair and skin. As it is rich in lipids and vitamins; they supply the essential nutrients, soften and create a protective film to care for your hair / skin.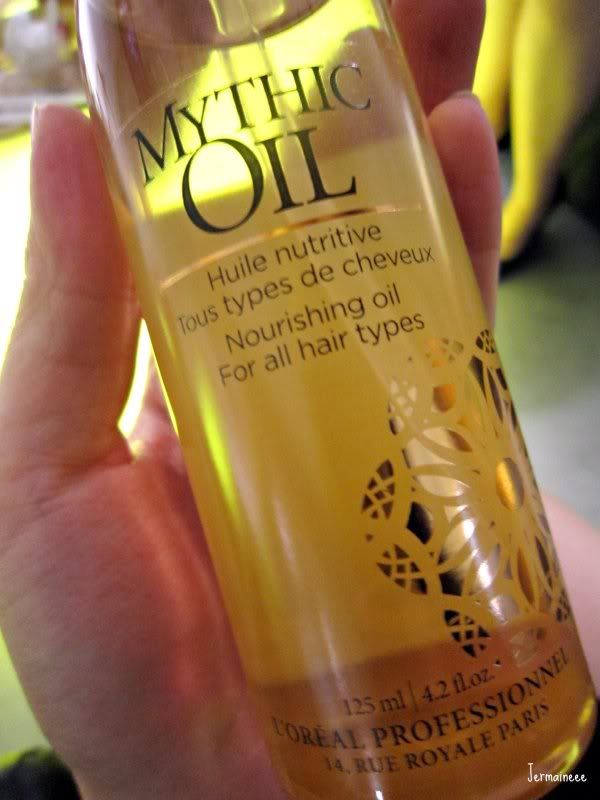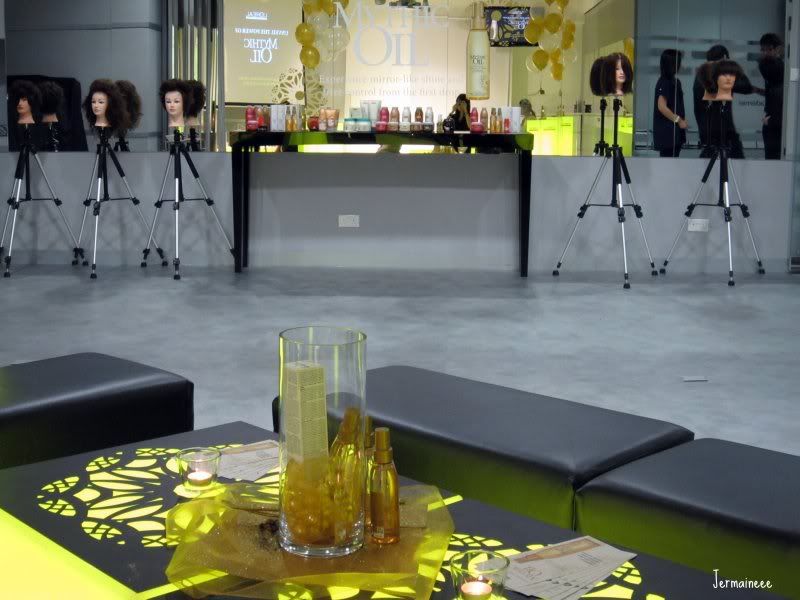 With these knowledge in mind, L'Oreal Professionnel made use of its expertise and taps into the precious world of oil to reinvent the use of oil...

After much research and collaboration, Mythic Oil is being introduced and this gem will address different hair concern / needs.. This unique oil which is inspired by mythic beauty custom will nourishes, tame and make all hair shine..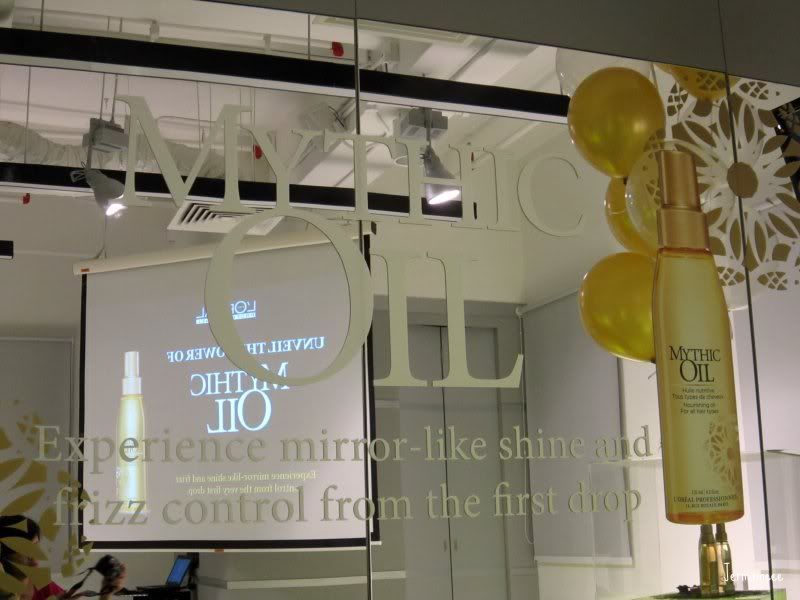 Furthermore, Mythic Oil is actually a 'Multipurpose oil' which will respond to different hair-care needs... Why is it so?
In Singapore, it is always hard to achieve long-lasting 'good hair days' due to our hot and humid climate. Often, we will step out with obedient and glossy hair but at the end of the day, it will be a different story... Moreover due to our climate and stressful life-style, it is also a hassle if we have to pile a lot of products to keep our hair in place.
Therefore, L'Oréal Professionnel has the perfect solution to these concerns with Mythic Oil. Mythic Oil is lightweight but yet nourishing enough to address various needs through its different uses and applications.
Different usage mode to address different needs:
1)
Pre-Shampoo
- Apply on dry hair before shampoo so that moisture will be retained which results in stronger and softer hair after shampoo-ing.
2)
Heat protection oil
- If you have the habit to blow dry / curl your hair, Mythic oil will act as a protective barrier and prevent hair from damages. In addition, it will supply the hair with smoothness, suppleness and intense shine. As a result, your hair will be not tangled up which gives you smoother, supple, softer and shinier hair.
3)
Finishing oil
- If you find that your hair is very dry after shampoo-ing or blow-drying, apply some Mythic oil to 'release frizz' and to add softness... It will help to set the hair, seals in the goodness, increase shininess and deliver frizz control.
4)
Restore your hair during mid-day
- When your hair feels in need of SOS assistance during mid-day, just load it with 2 or 3 pumps of Mythic Oil to revitalize it. Hair will feel soft, silky and supple instantly.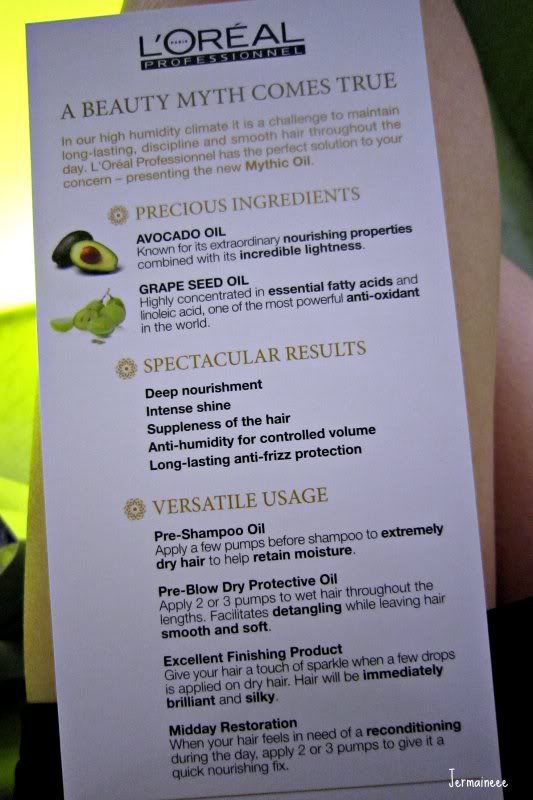 This versatile beautifying oil (which controls, disciplines and smoothes hair) will adapt to all hair types with the help of a blend enriched with avocado and grape seed oil. These two natural beauty oil are mixed together to create a light texture which provide all hair types with needed nutrition, shine and protection.
AVOCADO

OIL
- Originate in Mexico, Avocado has rich nourishing properties as it is rich in fatty acids and omega 3, 6 and 9. The flesh alone is made up of 30% oil and contains a lot of vitamin A, B1, B2 and D. All these goodness will help to smooth and provide the hair with the required nutrients.
GRAPE SEED OIL - It is packed with powerful vitamins and essential fatty acids hence it is used since ancient times for beauty purposes. The grape seed oil is also highly concentrated in linoleic acid which is one of the strongest antioxidants. With this oil, Mythic oil is able to penetrate hair quickly and deeply to deliver nutrients without any heavy after-feel.
If you have an important date or event to attend and will want fabulous looking hair, do visit any L'Oréal Professionnel salons and ask for the
MYTHIC BLOW DRY
service.
Combined with the expertise of the hairdressers, MYTHIC BLOW DRY will provide hair with long-lasting hold, perfectly defined movement and ultimate glow. You and your hair will greatly benefit from the synergy of the best professional know-how and this wonderful product..
Here's
Gary From Salon Vim
working his magic fingers together with Mythic oil on the model's hair..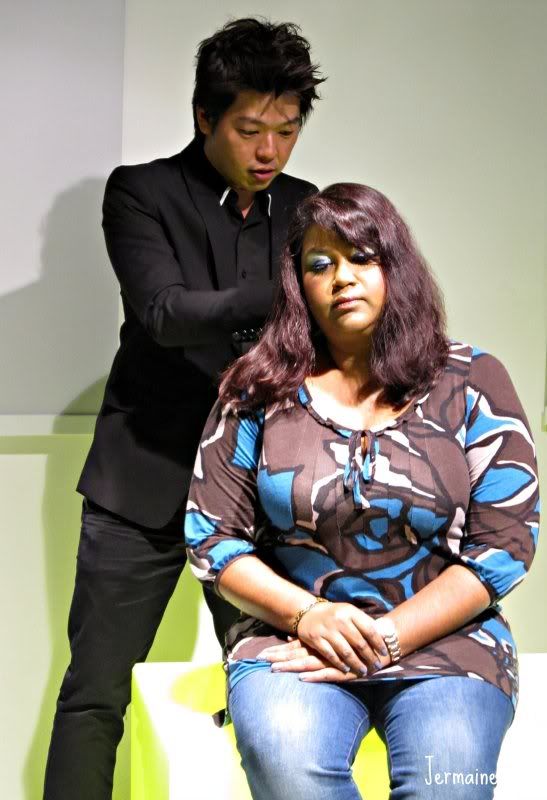 Before Gary blow-dry her hair, a comparison is done on the left side (with Mythic oil) and the right side (Without)... Left side of the hair looks so much tamer, shinier and healthier!!
Now it's time for my Verdict:
Been using the Mythic oil for about a week after shower and i really love it...By nature, I'm a lazy person so you will not see me applying anything on my hair after shower... But recently i have very very dry hair (as i dyed my hair one month ago) which will results in breakages when i comb my hair..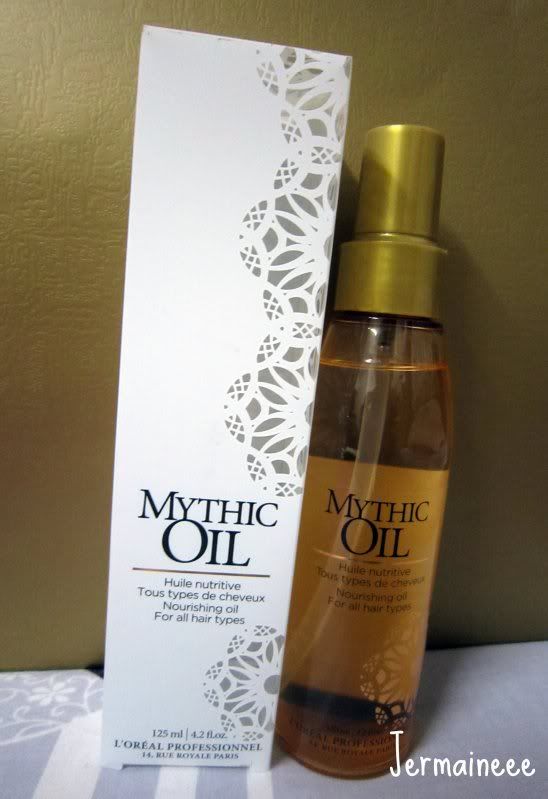 I will use Mythic oil in the morning after shower and two pumps are sufficient to pamper my thick mane. Since the bottle contains 125ml of Mythic oil, one bottle will last me for a long time... Since Mythic oil is oil-based, i find it is oily; but once it is fully absorbed, there's isn't any greasy heavy after-feel left behind on my hair. A personal tip, if you are concern about loading your hair with too much oil, DO NOT pump the oil and apply it on your hair at one go.. Instead, pump a small quantity and work through your hair in sections..
After application, hair feels smoother instantly and i can comb my hair easily since it is tangled-free... Hair appears to be neater, tamer and more shiny.. Since hair is no longer as frizzy, i don't experience so much breakage when i comb through my hair... Something worth mentioning is that the Mythic oil smells really nice and it will leave a nice scent on my hair... :)


More on this entry: please click on this link to go to my new blog :)