During cell, Marilyn (one of my cell mate) suddenly tugged at my dress and exclaimed:
'OMG Jermaine, why is your tummy so flat???'
**In my mind i was thinking: hehe! All thanks to CHO Beauty!! :)
Thank you Lifestream / AFC for sending me another great product - CHŌ BEAUTY Inner Cleanse System.
Product summary as per follows:
1) Aids with inner cleansing
2) Powerful formula as it contains heat-resistant 101 billion friendly bacteria which is clinically proven to eliminate accumulated wastes and toxins.
3) It also helps to accelerate the slimming process if you are on diet.. Overtime, you will have flatter tummy, brighter skin and stronger immunity..
But of course, you are what you eat so you have to complement CHO Beauty with a healthy diet.. While on detoxification using CHO Beauty, i also watched my food intake and tried to stay away from oily / sinful food...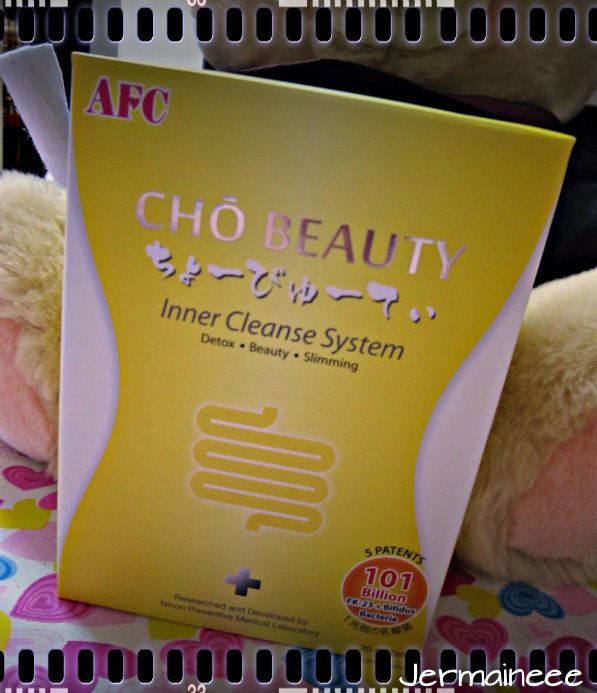 Dr Yang (Medical Doctor and Scientist at Nihon Preventive Medical Laboratory and AFC Japan) said that many healthy, weight and skin problems are due to poor digestive system and intestinal regulation... Overtime, if your internal body isn't clean due to the waste buildup in intestines and along your intestinal walls; it will lead to an increase in bad bacteria, parasites which affects the body's ability to absorb nutrients..

So how do you know if your body is clean and intestine are working fine? Simple! Just observe the state of your 'output'.. hahaha!
Sad to say, i belongs in the bad intestinal health category..


Beside this, if you are experiencing any of the 3 symptions below, your intestines are not in the good state of health..

◦Acne, dull or sallow complexion
◦Constipation or diarrhea
◦Bad breath
◦Poor immunity
◦Sluggishness and lethargy
◦Bloated discomfort
◦Overweight
◦Thinning hair
◦Yeast infection
◦Inability to absorb nutrients
More on this entry: please click on this link to go to my new blog :)