Hello everyone, It has been one month since i'm back from Krabi and life has been really busy!
Despite being so busy, there's a need for me to pen down this entry on my unforgettable stay in Amari Vogue Krabi.

Came across this hotel as it is highly recommended in Tripadvisor and reviews have stated that this hotel has a laid-back and luxurious environment.. In addition, the resort is located near / next to a private beach (Tub Kaek Beach) with rooms that have breathtaking ocean views.. Although it is secluded, it is still accessible to the islands available around Krabi.

Took their Amazing Summer package at THB 19,400 which includes:
(works out to $792 for 3 nights stay)

- 3 nights stay in Deluxe room including daily breakfast for 2 persons
- Roundtrip Transfers Krabi Airport
- THB 2,000 Baht Spa or Dinning Credit
- Guaranteed Late Check-out until 14:00 hrs.
- Welcome Drink
- Fruits & Flowers
- Free WiFi Internet Access
- Free use hotel kayak upon availability

Upon reaching the arrival hall in Krabi's Airport, the driver greeted us warmly while bringing us to the Van (Our Plane was delayed for an hour so the poor chap had to wait for us)

The journey from the Airport to the hotel took about 40 mins and there wasn't any jam (Unlike the road conditions in Bangkok).. After reaching the hotel, we were greeted by few of the hotel staff and they helped us immediately with our bags..

Even thought we were 2 hours ahead of check in time, no questions were asked and check in was done fast.. While processing our check-in, Warm towels and cold drinks were served...To my surprise, the GM of the hotel (Michael) came down to welcome us personally as well!! Such warm hospitality! You will never receive this kind of service in Singapore...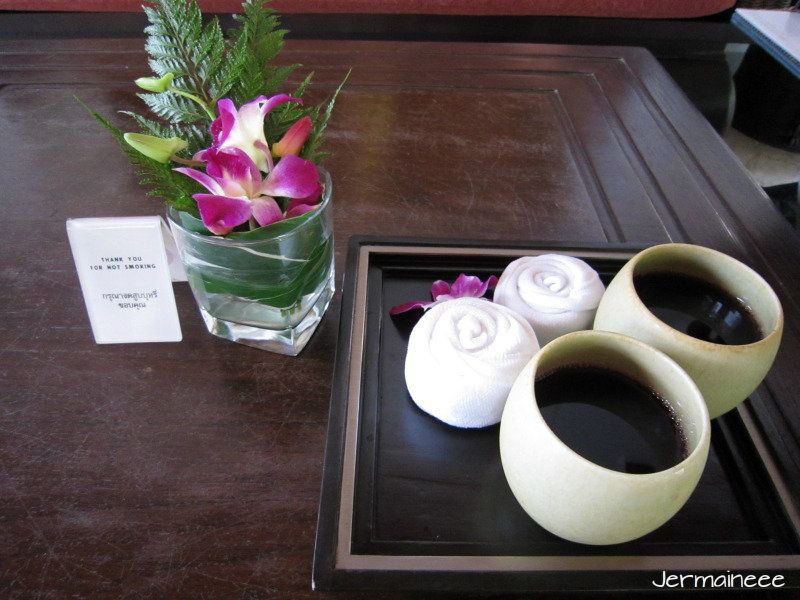 Michael told us that he had arranged a room on the top floor for us so that we could enjoy the sea view... As per my understanding, there are only 57 rooms in the hotel so you will not face any overcrowding issues...


More on this entry: please click on this link to go to my new blog :)